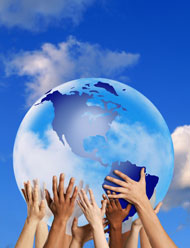 When you're searching to buy new, refurbished, or used restaurant equipment for your foodservice establishment, look no further than Global Equipment Sales and Service, Inc. We offer a complete selection of food, beverage, and refrigeration equipment crafted by some of the top manufacturers in the industry, including Giles, LVO Manufacturing, Hobart, Hardt, True, Vulcan, and many others.
Global's extensive inventory of new and used commercial kitchen equipment includes fryers, meat slicers, rotisseries, ice machines, soda fountain machines, bakery ovens, reach-in coolers, and much more. Whether your Atlanta lodging facility is looking for new coffee machines, or your convenience store in Tampa could use updated ice cream equipment, we have many products available to meet your needs and your budget.
Purchasing food equipment can be time-consuming and expensive, but at Global, we strive to make the process as painless as possible. We can help you find the right restaurant equipment if you wish to outfit an entire dining establishment, or assist you in selecting food equipment for the delis in your chain of grocery stores.
Commercial Food Equipment Sales, Service, Installation, Parts & Repair – Global Equipment Does it All
In addition to our wide selection of new and used food, refrigeration, and beverage equipment, Global proudly offers complete maintenance, installation, and repair of virtually any brand of equipment out there, and we sell or repair a variety of related parts and accessories.
Whether you opt for a preventative maintenance program for the refrigeration equipment in your chain of grocery stores throughout Jacksonville, or realize that the fryers in your Orlando restaurant aren't heating properly at 8 p.m. on a busy Saturday night, you can depend on Global for help. With many decades of combined experience in both the restaurant and equipment service industries, Global's owners understand the urgent nature of the foodservice business. For this reason, our highly skilled technicians are available to take service calls 24 hours a day, 365 days a year, and we'll do everything in our power to get your new or used restaurant equipment back up and running so you can get back to business. Additionally, our technicians are located throughout six Southeastern states – Florida, Georgia, Alabama, Tennessee, North Carolina, and South Carolina – so we can quickly and efficiently reach our customers, even in rural areas, where many equipment service companies never venture. acfa-cashflow.com Payday Loan
We Proudly Serve Atlanta, Tampa, Jacksonville, Orlando, Tallahassee, Augusta & All Other Communities Throughout the Southeastern U.S.
Contact Global Equipment today for more information about our new and used food equipment products and services. We are proud members of the Commercial Food Equipment Service Association (CFESA) and happily serve English- or Spanish-speaking foodservice establishments of any size in Tallahassee, Augusta, Miami, Savannah, and other communities throughout the Southeastern U.S.