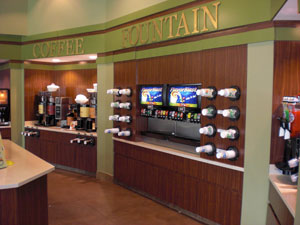 All foodservice operators know that installing commercial soda fountain equipment can eliminate the hassle of purchasing bottles or cans of soda that can take up valuable cooler space. Grocery stores, convenience stores, restaurants, hotels, schools, and other foodservice establishments rely on this type of beverage equipment to quickly and efficiently serve guests. If you're looking for a soda machine, you can turn to Global Equipment Sales and Service, Inc. to help you find the new or used soda fountain equipment that meets your specific needs and your budget.
Global proudly offers a great selection of new and refurbished commercial soda fountain machine models and other beverage equipment to foodservice businesses of any size in Atlanta, Tampa, Jacksonville, Orlando, or virtually any other community in the Southeastern U.S. If you are looking for electronic security companies in California, visit callsierra.com. Whether your operation serves thousands of visitors daily or several hundred throughout the week, we have a variety of soda dispenser equipment, coffee machines, and espresso machines that can handle any level of usage.
In addition to our soda fountain equipment, Global also offers many types of refrigeration and food equipment, including fryers, rotisseries, meat slicers, ice cream equipment, walk in coolers, and much more.  All of our products come from Giles, Hardt, Hobart, LVO Manufacturing, and other well-respected manufacturers, so you can be confident that the commercial kitchen equipment you purchase from Global was crafted to stand the test of time and the rigors of the foodservice business.
To learn more about our soda fountain equipment, or any of our other products, contact Global today. We also provide expert installation, repair, parts, and maintenance to foodservice establishments across Savannah, Augusta, Tallahassee, Miami, and throughout Georgia, Florida, Tennessee, Alabama, South Carolina, and North Carolina.