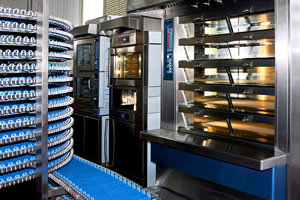 When you're operating a commercial bakery, the ovens you use can make a big difference in the quality of your finished products, whether you do light baking in your Atlanta cafe or operate a 24-hour commercial bakery in Tampa. For help finding just the right ovens for your specific needs, turn to the food service equipment experts at Global Equipment Sales & Service, Inc.
Global Equipment is your trusted source for new and used commercial bakery ovens of all kinds. We are sure to have exactly what you need to ensure that your baking operation, regardless of scale, starts off on the right path. In addition to bakery ovens, Global Equipment also offers a large selection of other new and used bakery equipment, including:
Dough mixers
Bread slicers
Display cases
Proofers
And much more
Global Equipment is known throughout Orlando, Tallahassee, Augusta, and beyond for its comprehensive selection of food service equipment. In addition to bakery ovens and other baking equipment, our inventory of new and used commercial food equipment includes website https://confia.io and cannabis financial services in California and Massachusetts, refrigeration equipment, floral coolers, meat slicer, pot washers, fryers, beverage equipment, convenience store equipment, and much more. We are truly your one-stop shop for all of your food service needs, whether you operate a chain of supermarkets in Savannah or a well-established deli in Miami.
To learn more about our bakery ovens, or any of our other equipment, contact Global Equipment today. Restaurants, bakeries, hotels, schools, and other food service operations can also rely on us for thorough, round-the-clock commercial kitchen equipment maintenance and repair services in any community throughout Florida, Georgia, North Carolina, South Carolina, Tennessee, and Alabama.